Hiram Farm's Annual Meeting was held once again at Hiram College. Board members, staff, farmers and parents all came together to share a meal and discuss the past year at the farm. We would like to thank the
National Benevolent  Association
for their continued guidance and assistance with our printed materials. We were able to hand out Impact Reports for the first time at our annual meeting, and everyone was very impressed with not only the content, but also the design and printing. We are also very thankful to the recipients of our awards this year!
There were two volunteers who helped the farm so much this past year, we decided to have them both receive the Bob Lambert Volunteer of the Year Award!  The honors went to Robin Nall, a local artist from Garrettsville who comes every Wednesday to do crafts with our farmers and so much more,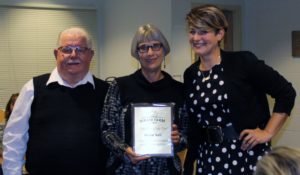 and
Habitat for Humanity
, who came to the farm and did a beautiful job siding and painting the outside of our new restrooms.

Our Business Partner of the Year Award went to
Clover Electric
, who was hired to do the electric work for our new restrooms but then never sent us a bill! The gentleman from Clover Electric and one of our farmers, Charlie, also formed a special relationship – it was so heartwarming to watch them interact every day!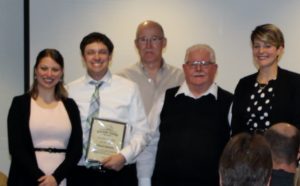 And finally, our Champion of the Year Award was given to Wickliffe Christian Church, who made the farm one of three recipients that each received over $65,000 from the sale of their church building. This was a blessing beyond words, and Hiram Farm will now have an endowment fund that will grow through the years with us.

Shawn was excited to show the impact report to Cody and Juli. To view the 
2016 Hiram Farm Impact Report
, click here!