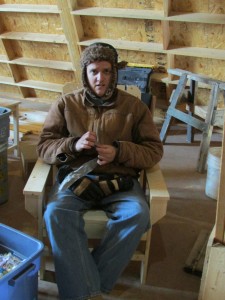 Christopher has been attending Hiram Farm since mid 2011.  He is included in many aspects of the farms daily activities including painting, planting, weeding, craft making, cutting material and one of his favorites, sawing and bundling wood for the campers to purchase. Christopher enjoys going to his job. He does not communicate like the average 22 year old, but when he comes home from doing his own job and his smile looks like fireworks in the sky, there is not need for words.
One of the biggest concerns for parents that deal with any type of disorder in their families would be the transition from school to a work environment. Our family feels blessed and is so grateful to have Hiram Farm a part of our lives. Hiram Farm offers Christopher and other adults with Autism the opportunity to interact in a work environment and enjoy and independence that they may not be able to obtain otherwise.
We learned of Hiram Farm at a time when we were starting to be concerned about what was next for Christopher in life and immediately made an appointment for more information and a tour of the facility.  We were amazed to say the least.  The knowledge the aides and staff has about autism in itself is very impressive.
Christopher needs stimulation and gratification in his life, and because of his disability, he has trouble communicating the things that come so easily to the rest of us. We did not have to explain his moods, mannerisms or his behaviors because they already knew and accepted Christopher as a person.
Our thanks and devoted appreciation to all that are involved in his happiness and for helping to give him a sense of purpose in his life.
Thank you –
Brian and Inez Powell