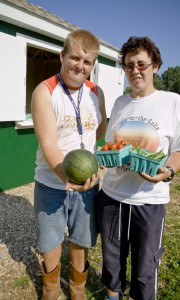 Hiram Farm is a community project born out of the desire to provide inspiration and meaningful work for the individual growth of people with Autism Spectrum Disorders.
This organic farm is located on 120 acres on the southwest corner of Rt. 82 and Rt. 700 in Hiram, Ohio. The address is: Hiram Farm 11485 Garfield Rd. Hiram, OH 44234.
Download the Hiram Farm brochure
Vision
Our vision is a program centered on farm activities such as: animal care, vegetable gardening, crop harvesting, and general farm maintenance.
Philosophy
Our commitment to this project  includes developing the land with respect for the environment and the health of all individuals working on the farm. We will model organic sustainable agricultural techniques. Moreover, all buildings on the farm will be L.E.E.D certified and the farm will serve as a model of how to construct buildings and residences with the highest standards of sustainable building techniques.
Hiram Farm is an independent, non-profit social service organization related to the Christian Church (Disciples of Christ).